Gio Ear Cuff Brass Earring
Regular price
$65.00
Sale price
$48.75
Unit price
per
Meet the Gio Ear Cuff Brass Earring, your passport to a world of style and individuality. This unique piece isn't just an earring; it's a fashion statement that speaks volumes about your personality and love for exquisite design.

Styling Advice:
- Singular Sparkle: The Gio Ear Cuff Brass Earring is a showstopper on its own. Wear it as a solo statement piece to add a hint of edgy elegance to your attire.

- Mix and Match: Don't shy away from pairing it with other earrings for a fashionable contrast. The asymmetry adds depth to your ear game, turning it into a canvas for self-expression.

- Versatile Vibes: This earring complements various fashion styles, from modern chic to bohemian. Try it with a sleek, high bun for a sophisticated look or let it shine through loose, wavy locks for a relaxed vibe.

Key Benefits:
- Silver-Plated Brilliance: The Gio Ear Cuff Brass Earring boasts a stunning silver-plated finish. Its gleaming surface captures attention and reflects your unique style. The silver hue adds a touch of elegance to your look, making it perfect for any occasion.

- Easy to Wear: This ear cuff earring is designed for comfort and ease. You can effortlessly slide it onto your ear without the need for additional piercings. It stays securely in place, ensuring you look fabulous throughout the day.

- Glam on the Go: It arrives in a chic Ultrasuede protective pouch, ensuring that your earring is always ready for your next adventure. Whether you're out for a coffee with friends or hitting the dance floor, the Gio Ear Cuff is your perfect companion.

Unleash your inner glam with the GIO Ear Cuff Brass Earring. It's not just an accessory; it's a reflection of your unique style, a testament to your individuality, and a statement of your appreciation for stunning craftsmanship.

Q: What makes this ear cuff stand out?
A: The unique silver-plated open triangle shape and it arrives in Ultrasuede protective pouch.

Orders are typically processed for shipment in 1 to 2 business days.

STANDARD SHIPPING RATES: $13. [EST. DELIVERY TIME  3-8 BUSINESS DAYS]

EXPEDITED SHIPPING RATES: $15. [EST. DELIVERY TIME 2-4 BUSINESS DAYS]

HAZMAT ITEMS do not qualify for expedited shipping. 


YOUSHOULDbeHAIR ships to contiguous U.S. states, Alaska, Hawaii, U.S. Territories, PO Boxes and APO/FPO addresses.

More on our shipping policy here.

If for any reason you are not satisfied with your order, you can request a return for most merchandise sold on YSBH by emailing ORDERS@YOUSHOULDBEHAIR.COM within 7 days of receiving your order. After a return is requested, the return must be back to us within 5 days. 

Full Refund Policy here.
View full details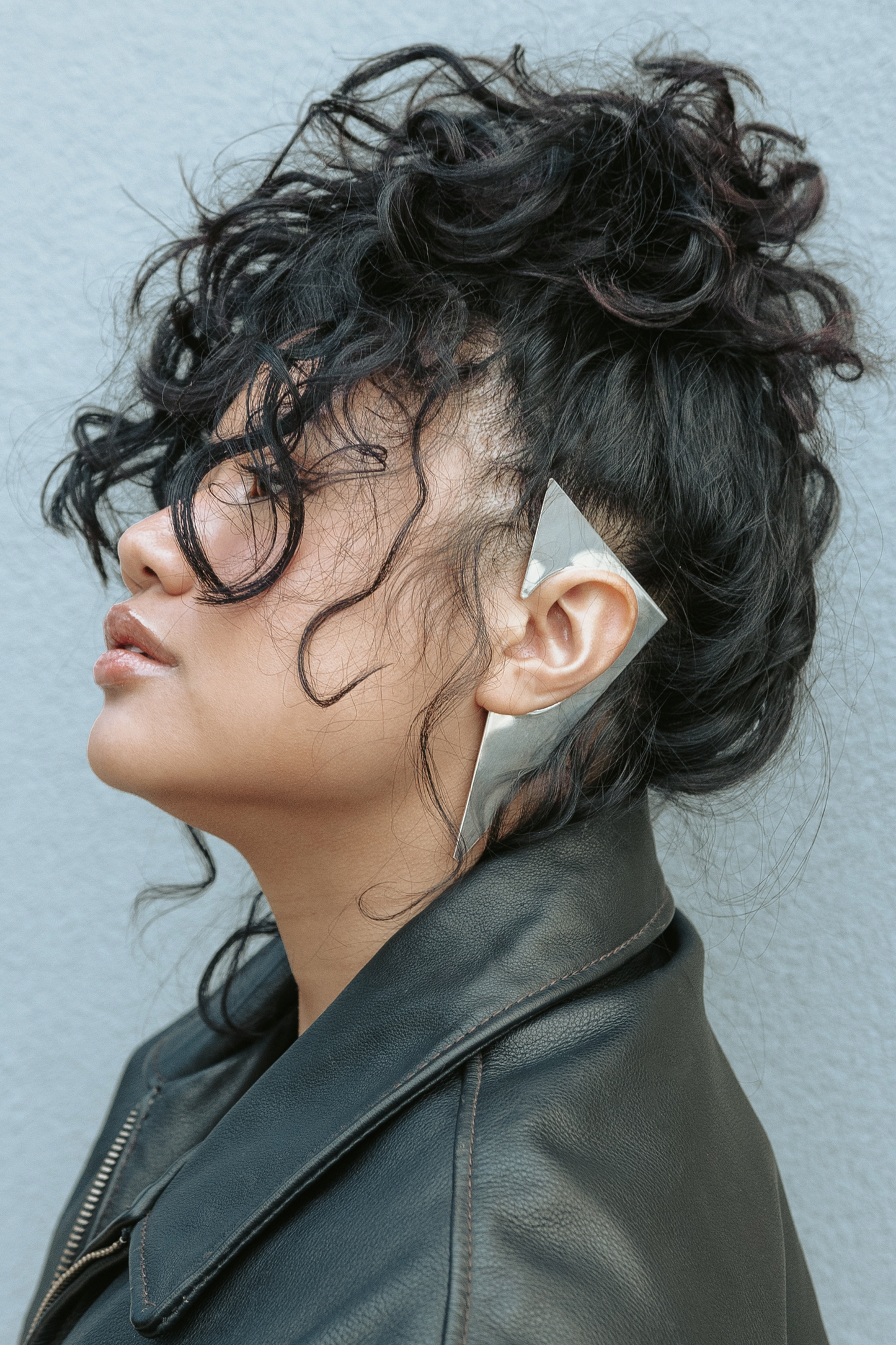 get on our radar for updates on new collections, styling tips, and subscriber-only promotions.